The latest RainViewer update delivers several enhancements for people who use RainViewer on an Apple Watch. It's a huge improvement that can make the RainViewer Apple Watch app the only weather app you need on your wrist.
Display radar on your wrist
Access to radar-detected rain on your wrist means you'll be well-informed whenever storms are nearby: The RainViewer app map displays the most recent radar scans available. You may choose to display radar only, satellite only, or radar and satellite imagery together. Radar typically shows rain and snow, while satellite imagery reveals a wide range of cloud coverage.
Check the forecast
RainViewer also gives you access to short-term and long-term forecasts at a glance. The smart precipitation prediction chart automatically adjusts to make sure you know when rain will arrive to the hour throughout the day—or to the minute, if rain is imminent. And of course, RainViewer gives you the option to display a 7 or 14 day forecast.
Choose your complications
The RainViewer Apple Watch app also now offers a wide range of complications, so you may display the weather data that matters the most to you. The complications include:
Temperature
UV index
Weather conditions
Rain chance
Rain minutes
Feels like temperature
Air quality index
Radar
Hourly forecast
Smart precipitation
Select the complications that make the most sense for your needs. For example, if you plan to be outdoors on a hike, you might want to track temperature to know when it will be very warm (or cold), UV index to guard against sunburn, or rain chance to help you stay dry. In tornado or hurricane prone portions of the world, the radar complication can help you track a potential weather threat.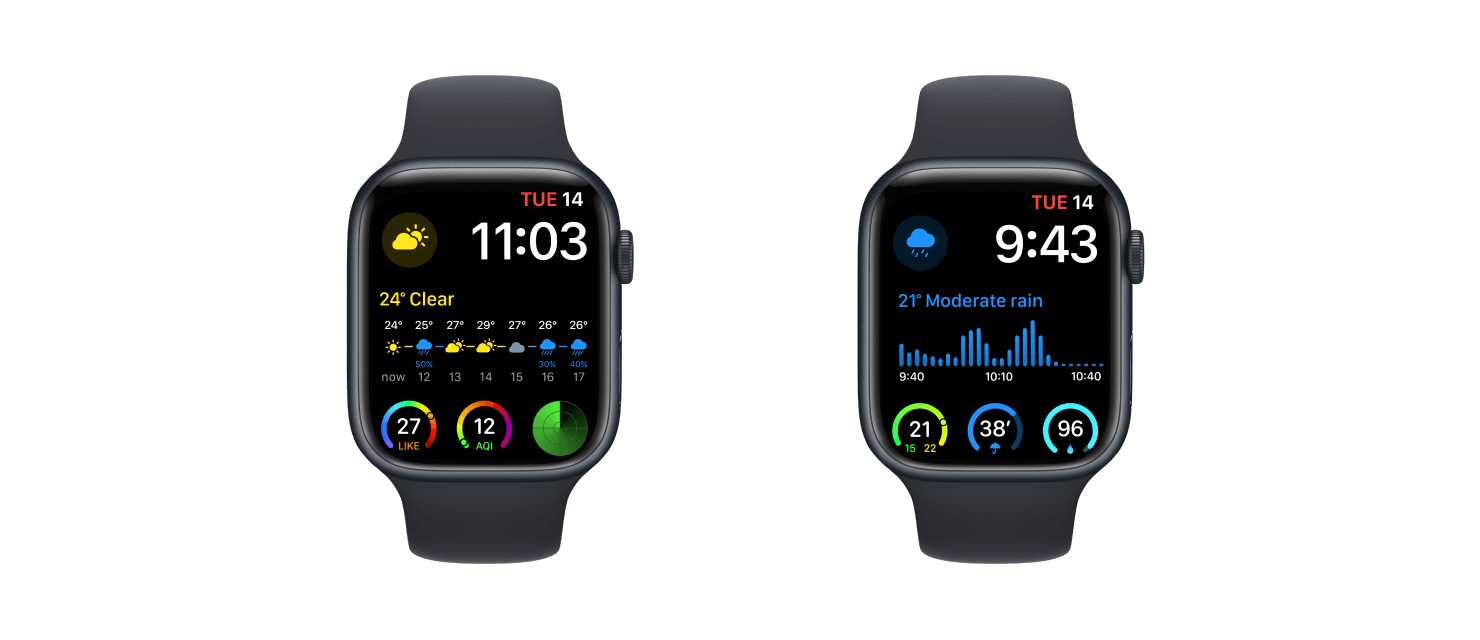 Watch weather in multiple locations
Most often, you'll want to track weather where you are—your current location. But RainViewer also lets you save other locations, too. You can choose to track weather wherever your friends, family, clients or colleagues are. Search for a site, save the location as a favorite, then switch to that location whenever you want.
Sync with your iPhone—or use independently
The RainViewer Apple Watch app will sync your settings and saved locations with the RainViewer app on your iPhone. However, if you only intend to use the RainViewer app on your Apple Watch, that works, too: The RainViewer Apple Watch app can work as an independent app, without the need to install RainViewer on your iPhone.
And now, you may upgrade and purchase access to Premium features directly from the RainViewer Apple Watch app. Once you subscribe to Premium, you'll have access to Premium features not only on the watch, but also on any device you use the RainViewer iOS or iPad OS app.