RainViewer 2.16 on Android brings you more adaptable widgets than ever before. (To learn the basics of how to install and customize widgets, read How to Use RainViewer Widgets on Android and iOS. In every case, once your widget is installed, tap and hold on the widget, then tap the pencil icon to access widget options.)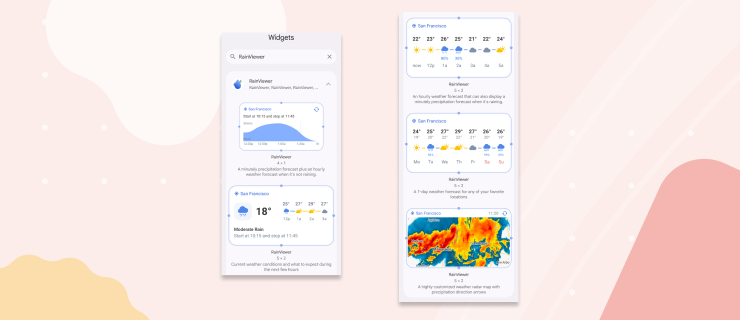 The RainViewer Android app widgets include:
a minute-by-minute precipitation forecast widget, which displays an hourly forecast when it's not raining,
a current conditions widget with a forecast for the next few hours,
an hourly forecast widget, which displays a minute-by-minute forecast when it's raining,
a 7-day forecast, and, of course,
the RainViewer weather radar map.
You may install and resize these widgets on any Android home screen.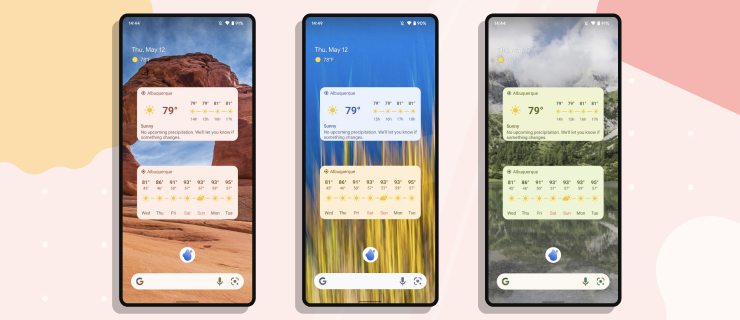 RainViewer widgets subtly coordinate with your Android wallpaper, since they support Dynamic Color theming. Change your wallpaper and the widgets automatically adjust. For example, note the subtle red background and text in the widgets on the left, contrasted with the green tints in the image on the right. And, in the center image, note how the top widget adapts to the blue background, but the bottom widget changes to reflect the yellow hues. Experiment with different wallpaper selections and notice how the widget colors shift!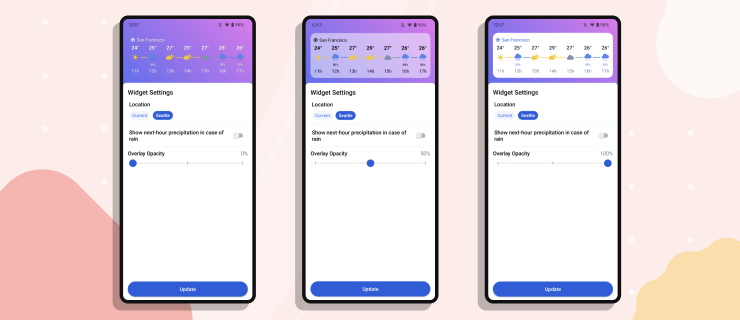 Several of the RainViewer widgets also let you adjust overlay opacity. At 50% opacity (middle image), the background color of the widget becomes less intense, and at 0% (left image) the background color behind the widget content disappears entirely. When set to 100% (right image), the widget background color remains and adapts with Dynamic Color theming.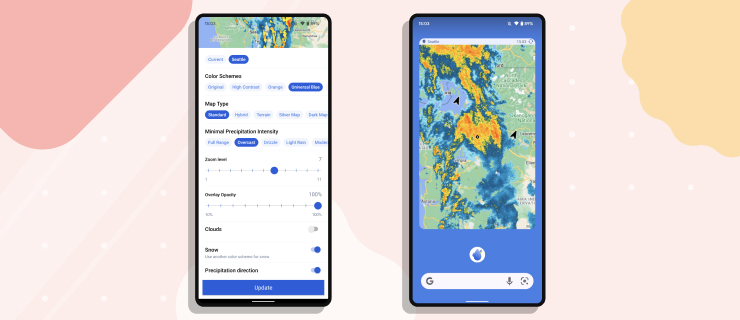 The RainViewer Android weather radar widget, in particular, lets you customize the display. Change the color scheme, map type, filter out lighter levels of rain, and set the zoom level. Zoom in to watch weather in a very specific location, or zoom out, for a regional overview. Choose to show clouds, snow or precipitation direction. And remember, you can add more than one radar widget to display the radar for different locations in different widgets.
To gain access to the latest RainViewer weather widgets, install the app from Google Play: RainViewer: Weather Radar Map - Apps on Google Play. The app is free, with premium features available with a subscription.