RainViewer 2 shows you the future — in the form of forecast radar, forecast conditions, and forecast precipitation alerts. These features build on RainViewer's history of delivering access to radar from more than 1,000 radar sites in more than 90 countries. The redesigned RainViewer app, available for both Android and Apple devices (including iPad, iPhone, and Apple Watch), makes it easier than ever to view past, present, and future radar around the world.
Download RainViewer 2:
RainViewer 2 includes the five following major enhancements.
Beautifully animated future radar
RainViewer displays radar-detected precipitation, including rain, snow, and hail. For each radar site, RainViewer displays forecast radar for the next 30 minutes (or, for people who upgrade to Premium features, 90 minutes of forecast radar). Additionally, RainViewer also allows you to review radar from the past 48 hours for a site. The app combines these past, present, and future radar views into a nicely animated looping display to help you understand the location and movement of a storm over time.
Next-hour precipitation chart
With a glance, you can learn both the intensity and amount of precipitation predicted for an area over the next hour. This cleanly-designed chart shows you when rain will start and end. You may access a chart either for your current location or for any location in the more than 90 countries available within RainViewer
Weather forecast
For each location, RainViewer gives you access to a graphic of the hourly temperature and general weather conditions for the next 24 hours. With a tap, you also may access a 7 day forecast that features forecast high and low temperatures, as well as anticipated conditions. An upgrade to Premium features extends the hourly forecast from 24 to 48 hours, and the daily overview forecast from 7 to 14 days.
Multiple favorite locations
RainViewer lets you track forecast conditions and precipitation for places around the world, including locations that lack a nearby radar site. To add a favorite location, either tap and hold on any location on the map, or search for a site by name (or zip code). Upgrade to Premium to track conditions for up to 10 favorite places.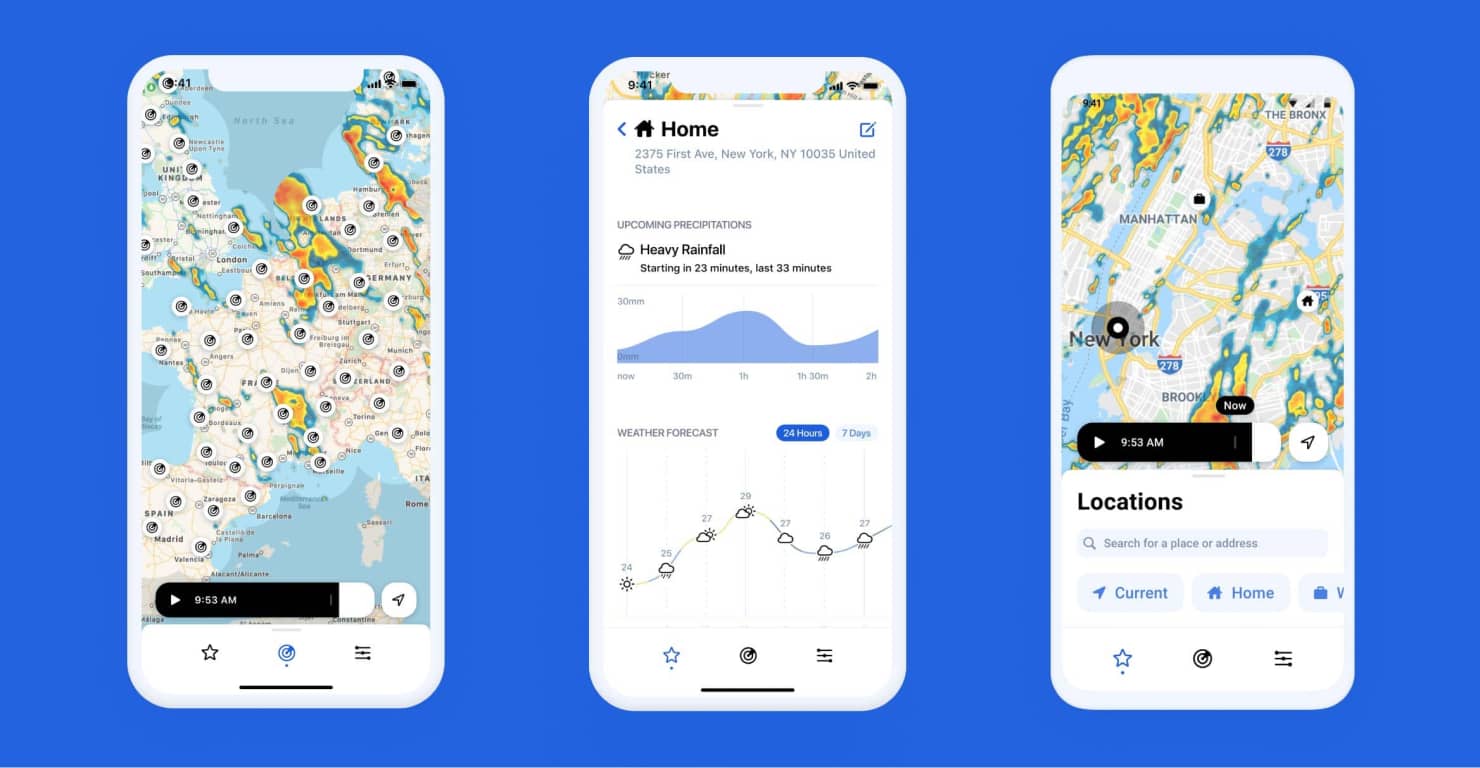 Rain alerts
RainViewer 2 offers push alerts for predicted precipitation. People may set a rain alert either for a location (e.g., alert me about rain at a specific site) or for an area (e.g., alert me when rain occurs anywhere within a selected distance of a location). You may choose from five different radius settings: 5, 10, 20, 30, or 50 kilometers (i.e., approximately 3, 6, 12, 19, or 31 miles) when you configure a rain radius alert.
Modern design and user experience
RainViewer 2 offers an updated user interface with support for dark mode, user-selectable app icons, and efficient and elegant user controls and settings. All of these design features work in both the RainViewer Android and iOS apps. And, for the first time, RainViewer 2 adds an Apple Watch app, with access to short-term precipitation details, as well as forecast temperature and conditions.