RainViewer 2.19 for Android is out! We're excited to present the new features coming with this release. This time, you'll get:
All-new Notification Center right in the app
Improved experience with weather alerts
New types of notifications
High-level customization for all locations
Now let's dive into the details. Previously, you would have to go to Settings to set up notifications that you'd like to receive from RainViewer. Now, you can find these settings in the all-new Notification Center in the app's bottom menu. It's crucial to be prepared for heavy rain and other extreme weather conditions, so now you can set up the alerts quickly and easily.
Currently, we have four types of notifications, including Severe Weather Alerts and Tropical Storms – we've added these two types with this release:
Rain Duration: The exact start and end time of rain at your location.
In-Radius: Rain inside a specified radius.
Severe Weather Alerts: Notifications from National Weather Service about critical weather conditions nearby, such as tornadoes, fires, extreme heat, and potential flooding.
Tropical Storms: Notifications about the formation of tropical storms and warnings if they are passing through your locations or changing their category.
Don't want to receive alerts at night or within any other time period? No problem – just set up this period in the Do Not Disturb section, which is also available in our Notification Center.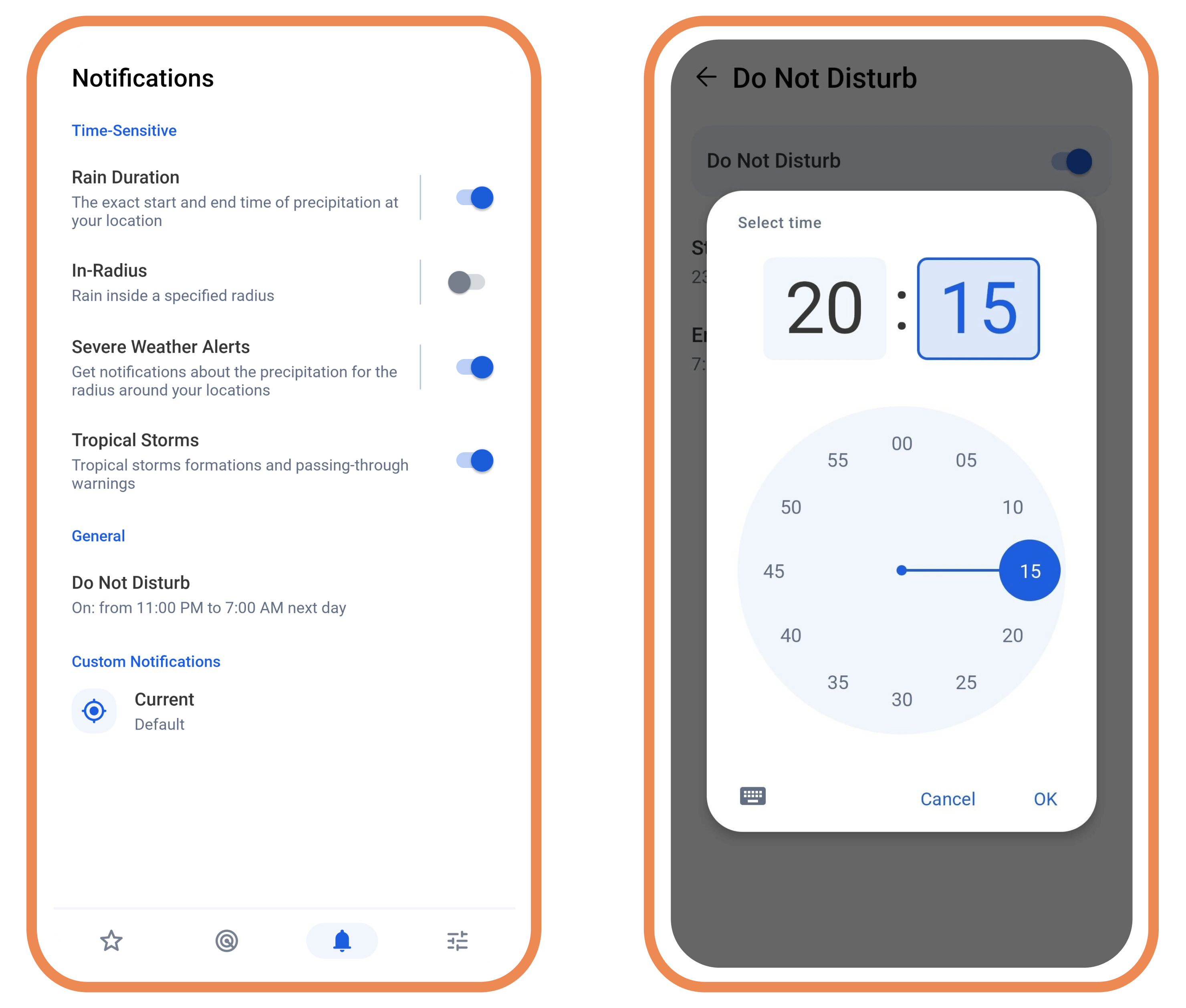 What really matters in this release is the flexibility of settings. You can customize the settings for each of your favorite locations depending on your needs. For example, you may need to stay aware of severe weather and tropical storms at your current location. At the same time, you may not need these settings in one of your favorite locations, e.g. your travel destination. Therefore, you can specify these different settings for each saved location.
Know about extreme weather and storms beforehand and stay safe with RainViewer's user-friendly Notification Center in version 2.19 for Android.