Tropical Cyclone Freddy is a powerful storm that formed in the Indian Ocean and affected Southern Africa multiple times. Ranked as a Category 5 storm according to the Saffir-Simpson scale during its first landfall, Freddy became the longest cyclone ever observed in the world. The first time it hit the south of Mozambique was on February 24, 2023, when 1.5 million people suffered from its consequences. On March 11 it returned, affecting the northern regions of the country and then moving to southern Malawi.
Freddy caused significant damage to the coastal communities of Mozambique and Malawi, including the destruction of homes, buildings, and infrastructure. The tropical storm also resulted in widespread flooding, which can lead to long-term impacts on the affected communities.
In this article, we will take a detailed look at this record-breaking storm and try to figure out why it lasted so long. But first, let's talk about how tropical cyclones form and what makes them so dangerous.
What Causes a Tropical Cyclone?
Tropical cyclones regularly visit certain areas of the globe, including China, Japan, Vietnam, the Philippines, India, Australia, Madagascar, Central America, the southern United States, and the Caribbean islands. Tropical cyclones with wind speeds exceeding 62 mph (100 km/h) that form over either the Northeast Pacific or in the North Atlantic Ocean are called hurricanes. Cyclones forming over the Northwest Pacific Ocean are called typhoons. However, cyclones over the South Pacific or the Indian Ocean are called tropical cyclones without any title changes, just like Freddy that appeared over the Indian Ocean.
Three key factors determine the impact of a tropical cyclone:
High winds. During a cyclone, wind speeds can exceed 62 mph (100 km/h) and can reach about 186 mph (300 km/h). At this speed, the air is perceived as a solid matter capable of delivering powerful blows.
Heavy rains. Downpours that accompany tropical cyclones cause tremendous floods. These floods give rise to powerful water currents that demolish bridges and houses as well as lead to giant landslides.
Storm surge. In the center of the cyclone, sea waves with a height of more than 10 meters arise. Approaching the coast, such waves crush everything in their path. Getting into the mouth of the river (estuary), such a wave drives huge masses of water into the river valley.
As you can see, a tropical cyclone is more powerful than an ordinary (extratropical) cyclone. Meanwhile, the physical nature of both types of cyclones is essentially the same. There are two main differences between an ordinary cyclone and a tropical one:
In the center of a tropical cyclone, there is a clear dark spot with a diameter of up to 6 mi (10 km) - the so-called eye.
The diameter of tropical cyclones is several hundred kilometers, whereas that of ordinary cyclones is noticeably larger, reaching several thousand kilometers.
So here's how a tropical cyclone forms:
Image source: The Globe and Mail
It originates at a low latitude as a result of the interaction of winds blowing there. Powerful convective air currents arise over a very heated (up to 79-82°F or 26-28°C) ocean surface.
Above the warm ocean, strongly heated humid air masses rush upward, so the near-surface atmospheric pressure inside this area drops sharply. This forms a rather deep depression zone.
Immediately, forces arise that seek to direct the surrounding air into the depression zone.
The huge speeds of air masses in a tropical cyclone (reaching about 186 mph or 300 km/h) force them not to twist towards the center of the zone, but to circulate it. As a result, a relatively small area in the center - the eye - appears.
When a tropical cyclone, using the reserves of kinetic energy, gradually fades, it first turns into an ordinary cyclone, and then completely disappears.
Tropical Cyclone Freddy - a Record-Breaking Storm
According to the Australian Bureau of Meteorology and the US Joint Typhoon Warning Center, the storm formed on February 6, 2023, in the Indian Ocean northwest of the Australian coast. It began to move west, and the wind force reached 167 mph (270 km/h) at its epicenter. On March 7, it broke the record for the longest-lasting cyclone since weather records began, according to the World Meteorological Organization. By March 11, the storm had already been on the move for 34 days. The previous record holder, John, raged for 31 days in 1994, crossing the Pacific.
Freddy also crossed an ocean and thus gained strength. From its birthplace near Australia, it went from east to west across the entire South Indian Ocean toward Africa. In total, Freddy traveled about 5,000 miles (more than 8,000 kilometers). Via Mauritius and La Réunion, the storm finally hit Madagascar on February 21 and Mozambique on February 24. Here's what the Tropical Cyclone Freddy path looked like in the RainViewer app: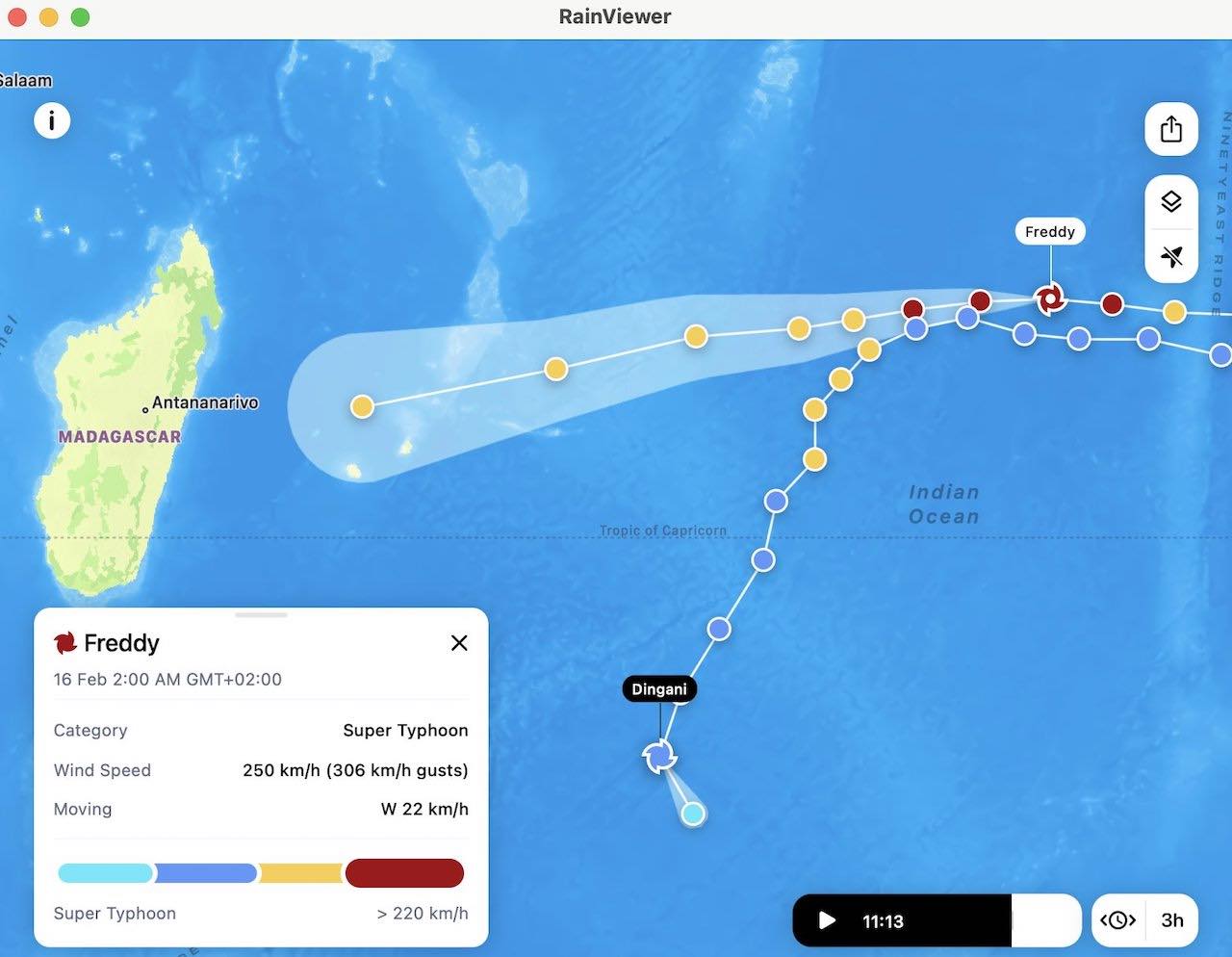 This path is rather rare. The most recent comparable cases were tropical cyclones Leon-Eline and Hudah in 2000, which, like 2023, was a La Niña year. La Niña is a climate pattern that typically occurs every three to five years, being the counterpart of El Niño. At times of La Niña, the waters near Asia are particularly warm.
On March 11, Freddy struck Mozambique for the second time. As of March 13, 2023, the storm went further inland as a tropical depression but still generated heavy rains in Mozambique and southern Malawi. Freddy caused violent storms with high wind speeds, but the eye of the cyclone was moving extremely slowly. This gave it plenty of time to suck up large masses of water from the sea. Such slow movement brings continuous heavy rain to affected regions, often resulting in widespread flooding.
A satellite image released by NASA shows the situation as of March 8. The cyclone - slightly weakened, but still as strong as a Category 1 storm - was moving across the Strait of Madagascar toward the east coast of Mozambique for the second time.
Image source: NASA
And here's what Freddy looked like on RainViewer's radar animation as of March 5-7.
In addition to its longevity, Freddy also broke the record in the accumulated cyclone energy (ACE) index - 84.7. It is a metric that weather agencies use to represent the total energy that a tropical cyclone discharges over its duration. So now, as of 2023, Freddy appears to be the most energetic storm on the planet. The previous record holder was Hurricane Ioke in 2006, with an ACE index of 82.
Finally, Freddy's got the highest number of rapid intensification cycles as compared to other tropical cyclones - 7.
| Name, Dates | Maximum Wind Speed | Diameter |
| --- | --- | --- |
| Freddy, March 2-12, 2023 | 113 mph (183 km/h) | 115 mi (185 km) |
| Freddy, February 6-24, 2023 | 160 mph (256 km/h) | 92 mi (148 km) |
| Cheneso, January 17-29, 2023 | 92 mph (148 km/h) | 92 mi (148 km/h) |
| Jasmine, April 24-28, 2022 | 62 mph (100 km/h) | 59 mi (95 km) |
| Gombe, March 8-14, 2022 | 113 mph (183 km/h) | 69 mi (111 km) |
| Dumako, February 13-16, 2022 | 113 mph (183 km/h) | 69 mi (111 km) |
| Ana, January 23-25, 2022 | 58 mph (93 km/h) | 92 mi (148 km) |
Most violent cyclones in Mozambique in 2022-2023. Source: WorldData.info
Tropical Cyclone Freddy Impact
The storm caused severe damage to the coastal communities of Mozambique and Malawi, including the destruction of homes, buildings, and infrastructure. It also disrupted transportation and caused widespread power outages, making it difficult for aid and supplies to reach affected areas.
In 24 hours, some of the provinces in Mozambique experienced a monthly equivalent of precipitation - over 200 mm. 10 people died, 14 were injured, and nearly 2,000 residential buildings were destroyed or damaged, as per the UN Office for the Coordination of Humanitarian Affairs (OCHA).
In Malawi, the storm caused torrential rains leading to massive landslides and floods. According to a resident of Chilobwe town in southern Malawi, government rescuers arrived too late. That's why the residents had to participate in rescue operations, trying to find survivors in the mud with the help of shovels or just bare hands.
Image source: Aljazeera
The president of Malawi declared a state of disaster. According to CNN, as of March 15, at least 190 people were reported dead, and about 37 were missing.
In Madagascar, OCHA reported 17 deaths - 7 from the first landfall and 10 from heavy rainfall on March 5-6. The cities of Morombe and Toliara were flooded. However, this community suffered the least damage from the raging storm.
International organizations and local authorities are working to provide relief and support to those affected by the cyclone. These efforts include providing emergency food, water, shelter, and medical care to affected communities. Relief efforts are also focused on restoring infrastructure and services that the storm damaged.
How to Stay Safe During Tropical Cyclones
The severe Tropical Cyclone Freddy proved that cyclones can be violent and take away many lives. It is crucial to follow the safety rules during such a natural disaster. Here are some basic tips for those experiencing such an extreme weather event:
Remain up-to-date with the latest weather forecasts and news regarding the cyclone's location, intensity, and movement. The storm tracking layer and Severe Weather Alerts functionality in the RainViewer weather app will help you with that.
Prepare a survival kit that includes essential items like drinking water, non-perishable food, first-aid supplies, flashlights, and extra batteries.
Secure your home by making necessary repairs and reinforcements to the roof, windows, and doors. Remove any loose or broken objects that can fly around during strong winds.
If you live in an area that is prone to flooding or storm surges, it is recommended to evacuate before the cyclone hits. Follow the instructions of local authorities and evacuate to a safe location.
If you are not able to evacuate, stay indoors during the storm. Stay away from windows, doors, and exterior walls. Seek shelter in an interior room or basement if possible.
After the storm has passed, be cautious when going outside. Be aware of fallen power lines, flooded areas, and debris on the roads.