A hurricane season is a yearly period that occurs between June and November. During a hurricane season, tropical cyclones, commonly known as hurricanes, tropical storms, or tropical depressions, develop in the Atlantic Ocean, primarily in North American countries.
In other basins, the season is known under different names:
Northwest Pacific – typhoon season
Indian Ocean and South Pacific – tropical cyclone season
When does hurricane season start and end? Knowing the answer to this question can give people time to plan evacuation, stock up on necessary supplies, and secure their homes against potential damage.
Atlantic Hurricane Season Dates
The Atlantic hurricane season officially begins on June 1 and ends on November 30. If eleven named storms occur during a hurricane season, then meteorologists consider it average in intensity.
A tropical storm gets a name when its accompanying wind reaches speeds of over 38 mph (62 km/h). A storm becomes a hurricane when the wind speed exceeds 74 mph (119 km/h). In the table below, you can find the hurricane categorization according to the Saffir-Simpson scale:
| Category | Wind speed |
| --- | --- |
| Category 1 | 74-95 mph |
| Category 2 | 96-110 mph |
| Category 3 | 111-130 mph |
| Category 4 | 131-155 mph |
| Category 5 | ≥156 mph |
Sometimes tropical storms happen outside the season. May 1948 witnessed the deadliest off-season storm in the history of the Dominican Republic. The strongest off-season cyclone to hit the US was Tropical Storm Beryl in May 2012. The most recent out-of-season storm was Tropical Storm Ana, which occurred in May 2021.
2023 Atlantic Hurricane Season: Preliminary Forecast
According to NOAA, the 2023 Atlantic hurricane season may be less active than the previous ones – for example, the 2021 season, which saw 21 storms. Over the last 24 months, the weather in the Northern Hemisphere has been affected by a recurring weather pattern called La Niña. This increased the possibility of storm activity in the Gulf of Mexico, as La Niña makes storm formation easier.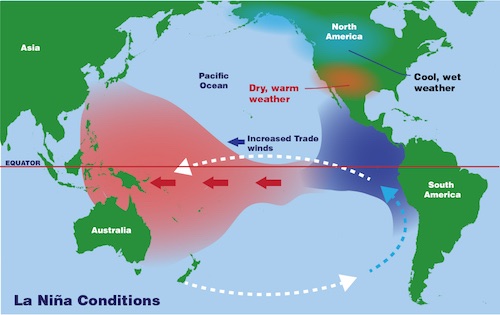 Image source: NOAA
But the climate situation is expected to change in the coming months. This is because El Niño, the opposing weather pattern to La Niña, may take over later this year. According to the National Oceanic and Atmospheric Administration, El Niño's arrival could bring more wind shear to the Atlantic basin, thereby hampering hurricane development. Meanwhile, the Pacific region could experience a more active cyclone season.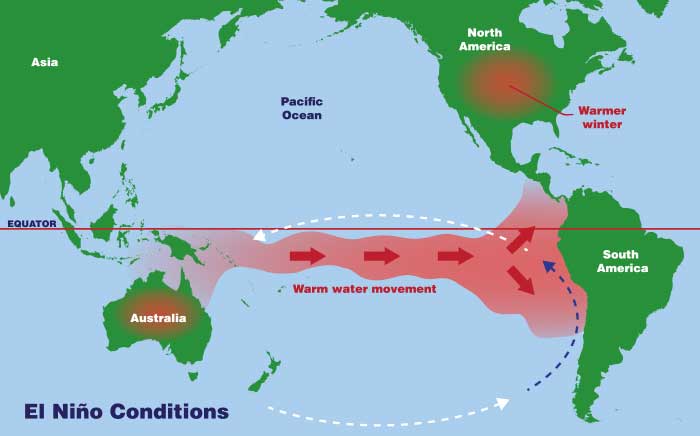 Image source: NOAA
Currently, the hemisphere is experiencing a phase of neutral transition, which is referred to as El Niño-Southern Oscillation-Neutral. For the first time since 2018, this transition has made possible a shift to an authentic El Niño phase by the end of summer.
From 2017 to 2018, the northern hemisphere underwent a weak El Niño phase. According to the Climate Prediction Center, the last significant El Niño period ended in 2016. Typically, both El Niño and La Niña phases persist for around nine to twelve months, but they can extend beyond that period.
Hurricane Season in Other Parts of the World
The period between May 15th and November 30th is when the Pacific hurricane season takes place. This season affects the eastern Pacific region, comprising the coasts of South America, Central America, and Mexico. The western Pacific region, on the other hand, has a separate season known as typhoon season, which lasts from June to December. The typhoon season affects the area from the International Date Line to the Asian coast.
The Indian Ocean hurricane season is known as the tropical cyclone season and typically runs from April to December. This season covers the northern Indian Ocean, including the coasts of India, Pakistan, Bangladesh, Sri Lanka, and Myanmar.
In Australia (South Pacific), the hurricane season is also known as the tropical cyclone season and lasts from November to April. This season affects the northern coast of Australia, including Queensland, Western Australia, and the Northern Territory.
Most Devastating Hurricane Seasons in Recent History
In recent years, many destructive hurricane seasons have taken place. Here are the examples of the most catastrophic recent hurricane seasons:
2017 Hurricane Season: In 2017, several major hurricanes caused widespread damage and loss of life. Hurricane Harvey made landfall in Texas, leading to catastrophic flooding in the Houston area and taking away over 100 lives. Hurricane Irma struck the Caribbean and Florida, resulting in widespread damage and power outages. Hurricane Maria was raging in Puerto Rico and other Caribbean islands, having killed over 3,000 people.

Hurricane Maria. Image source: Wikipedia

2018 Hurricane Season: In 2018, Hurricane Florence made landfall in North Carolina, causing widespread flooding. Hurricane Michael hit the Florida Panhandle as a Category 5 storm, having killed 74 individuals.

2019 Hurricane Season: This season was notable for Hurricane Dorian, which struck the Bahamas as a Category 5 storm. Dorian was one of the most powerful hurricanes on record, with sustained winds of up to 185 mph (51 km/h). Other notable storms from the 2019 season include Hurricane Barry, which caused flooding in Louisiana, and Hurricane Lorenzo, which became the easternmost Category 5 hurricane on record.
How to Prepare for a Hurricane Season
Although it is impossible to prevent hurricanes, being ready can greatly minimize the impact. There are several steps you can take to ensure your preparedness.
Secure your front door. Add head and foot bolts to your front door before the hurricane season. This can prevent your doors from being blown away by the wind.
Stock up. Be prepared to be stuck indoors for a long time during a hurricane. Have enough canned food, bottled water, and an emergency kit at home.
Prepare a power source. Power outages are common during hurricanes, so it's important to have a plan to get your home back up and running. A smart idea would be to get a power generator and pumps in case of flooding.
Install hurricane straps on your roof. Hurricane straps can help prevent damage to your home's roof during a hurricane. This measure will almost certainly save you a lot of money in the long run and will work for many years.
Think about an evacuation plan. If your home becomes too dangerous during a hurricane, you should have a Plan B at hand.
Stay informed. Keep up to date with the hurricane watch and hurricane warning alerts from the National Weather Service. Activate the Severe Weather Alerts functionality in the RainViewer app to remain informed about the changing weather conditions. Turn on the Storm Tracks layer so you can see if the hurricane is approaching your area. Stay safe!