If you ask someone "What is the most destructive hurricane that you know?", they would probably answer "Katrina". However, now Katrina has a "younger" competitor that can outperform the world's most famous storm. It is Hurricane Ida, which hit the southeastern United States in August and September 2021.
On Sunday, August 29, 2021, Hurricane Ida made landfall in southeast Louisiana near Port Fourchon. It became the fifth most powerful hurricane in American history with maximum sustained winds of 150 miles per hour. This figure is higher than the wind speed of Hurricane Katrina, which had a third category.
Hurricane Ida struck the American coast exactly 16 years after Katrina, which killed over 1,800 people. A new hurricane in the United States began 44 miles away from the place where Katrina made initial landfall. According to The Wall Street Journal, this is the second most damaging hurricane since 2005
How Did Hurricane Ida Occur?
Hurricane Ida formed from a tropical wave first recorded in the eastern Caribbean Sea on August 23. Over the next few days, its strength rapidly increased. On Friday, August 27, Ida was assigned the first (minimum) category according to the five-level Saffir-Simpson scale.
However, two days later, on Sunday, when the hurricane reached the coast of Louisiana, its strength was already measured by the fourth category. The US National Hurricane Center warned of "catastrophic destruction". US President Joe Biden, speaking after a meeting with the head of the US Federal Emergency Response Agency in Washington, warned: "This is going to be a devastating, intense hurricane, a life-threatening storm… Take it seriously, very seriously." Thanks to warnings and calls to evacuate, tens of thousands of people fled to safe places.
Grand Isle in Louisiana was the first city on the path of Hurricane Ida. The mass evacuation of coastal Louisiana residents began on Friday, despite statements from local officials that they were much more prepared for the arrival of Ida than for Katrina in 2005. In the most dangerous areas south of New Orleans, which were not fenced off with protective levees, the authorities announced a mandatory evacuation. Elsewhere, the evacuation was voluntary. In anticipation of the impending disaster, thousands of people left New Orleans and other communities along the hurricane's predicted path.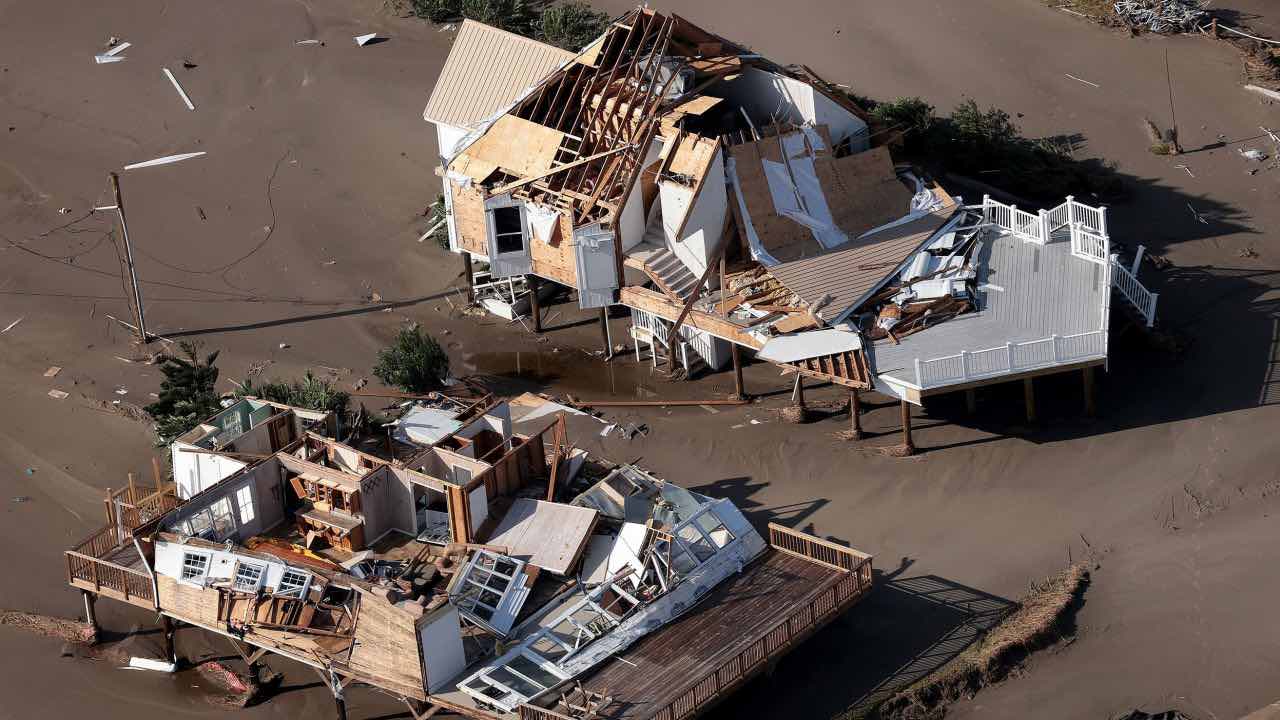 Image source: CNN
Cuba was the first country to get in the way of Ida. The hurricane swept through the western part of the island, leaving behind destruction and flooding large areas. The maximum wind speed reached 74 miles per hour.
What Areas Did Hurricane Ida Hit?
Ida hit the coast of Louisiana on Sunday afternoon as a Category 4 hurricane. It was accompanied by strong winds, rains, and storm waves that hit the shore. The hurricane forced so much water into the mouth of the Mississippi River that it reversed its flow near New Orleans.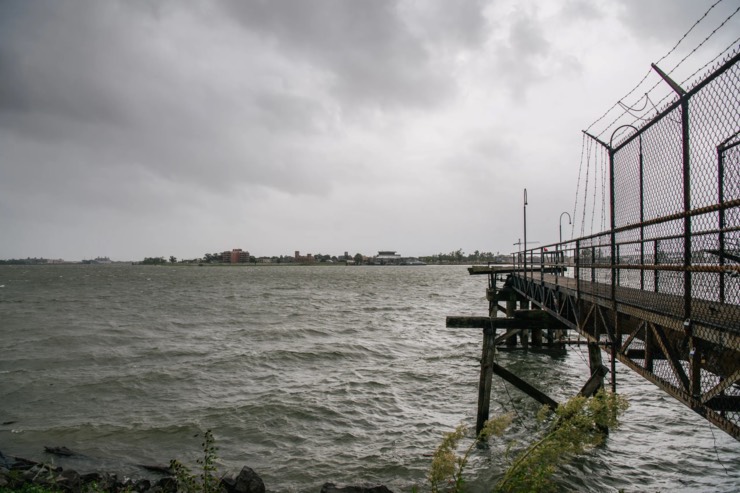 Image source: USA Today
After Louisiana, the remnants of Hurricane Ida headed to the northeastern United States in the form of tornadoes and caused catastrophic flooding in New York. Metro stations, streets, and basement apartments went underwater. For the first time in the history of New York, a state of emergency was declared due to floods. The rainfall totals were stunning. 8.9 cm of rain fell in one hour, surpassing the previous record of 4.9 cm in one hour during Storm Henri on August 21. Heavy rain and severe flooding also took the lives of 25 people in New Jersey in early September.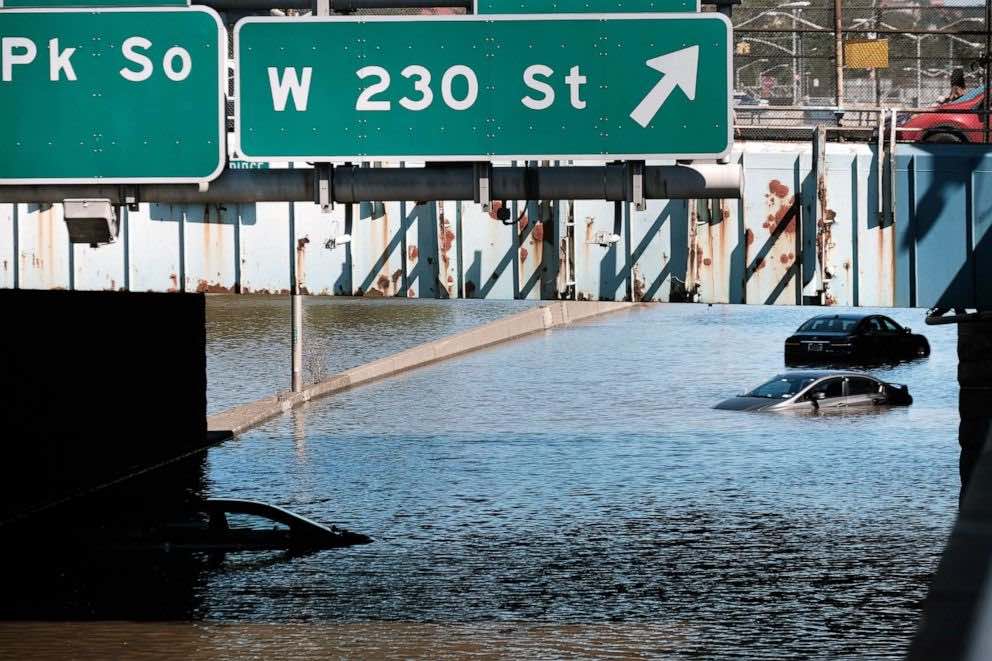 Image source: The New York Times
Ida's intensity dropped significantly only 16 hours after it had reached Louisiana. On Monday morning, it was no longer a hurricane, moving into the tropical storm category.
Hurricane Ida Consequences
The hurricane brought heavy rainfall and strong winds that caused tree damage and tore off the roofs of houses. Residents of several cities in Louisiana have been urged to seek higher ground due to possible urban flooding. In the state, more than one million people - one in four residents - were left without electricity. Hurricane Ida completely blacked out New Orleans.
Image source: NASA Earth Observatory
Hurricane Ida destroyed critical infrastructure facilities over vast areas, such as the Grand Isle levee. At the same time, despite numerous floods, the new system of dams built after Katrina helped to avoid catastrophic flooding. Nevertheless, the hurricane took away the lives of 107 people – 87 in the US and 20 in Venezuela. The economic damage from Hurricane Ida was estimated at $ 75 billion, making it the costliest weather event of 2021 and the second costliest hurricane in US history.
Joe Biden announced the impending "climate crisis" in the country. The US Democratic Party demanded the immediate adoption of bills aimed at combating climate change. On September 4, Biden visited hurricane-hit New Orleans and announced $100 million in direct aid to Louisiana residents.
Is Hurricane Ida as Strong as Katrina?
Hurricane Ida is stronger than Katrina in terms of category, wind speed, and storm surge. At the same time, Katrina caused more deaths - over ten times more than Ida. It was also much more costly - the financial damage exceeded that resulting from Hurricane Ida by over $ 100,000 billion.
|   | Katrina | Ida |
| --- | --- | --- |
| Category | 3 | 4 |
| Wind speed (miles per hour) | 125 | 150 |
| Storm surge (meters) | 3.7 | 4.9 |
| Deaths | 1833 | 107 |
| Economic damage | $ 176 billion | $ 75 billion |
Hurricane damage behavior associated with natural disasters includes a combination of exposure to high-speed damaging winds, intense periods of rain, and storm surge inundation in low-lying coastal areas. Katrina's behavior is remembered for its devastating water-related hazards and storm surge flooding in areas of New Orleans such as the Lower Ninth Ward.
To Hurricane Ida, the full latitude of the wind field looked equally significant. The storm's behavior will be remembered for the dangers associated with the wind. Ida had a slow inland path with very damaging sustained winds of 124 miles per hour for eight hours on a 75-mile journey through parts of Jefferson and La Fourche.
In 2005, Katrina crossed the cooler water column in the Gulf of Mexico as it made landfall, weakening from Category 5 to Category 3. In 2021, Ida did not meet cooler waters, which led to its rapid intensification. Rising water temperatures in the Gulf of Mexico are linked to climate change.
New Readiness Challenges Brought by Hurricane Ida
Unlike during Hurricane Katrina in 2005, the dams and drainage systems protecting New Orleans have withstood the stress of the storm surge. Since Katrina, the US federal government has spent $ 14.5 billion on dams, pumps, locks, and drainage. In the case of Ida, this investment appears to have paid off. However, while preparations for flood defenses like Katrina were successful, other aspects of the preparations also failed. The region's power grid was down during the hours of sustained winds.
All eight major transmission lines that bring electricity from power plants to New Orleans were shut down, and more than one million people were left without power three days after Ida's landfall. Sixteen years of additional climate change since Hurricane Katrina made the preparations more difficult. Even if the authorities can better cope with issues such as storm surge protection, the impact of future storm events requires additional measures. These include making the infrastructure more resilient to better withstand the risks of climate change.
Conclusion
Though Hurricane Ida was stronger than Katrina, it took away much fewer lives and caused less economic damage. There's still a lot of work to be done, but at least the authorities were ready and learned from the mistakes of 2005. Additionally, rapid technological advancements make it possible to track storm and hurricane events on weather radar maps right from smartphone screens. Here's the 24-hour view of Hurricane Ida in the RainViewer app. In this video, you can see how Hurricane Ida passes over Louisiana and continues across Mississippi and Alabama. To view any hurricane or tropical storm on the map in RainViewer, you have to turn on the Storm Tracks and Radar + Satellite (Clouds on iOS) layers.
But apart from admiring the contradictory beauty of storms, do not forget to stay safe. Activate severe weather alerts from the National Weather Service - such an option is also available in RainViewer - and head to the nearest shelter when the hurricane is predicted to approach your location. Being warned and prepared beforehand saves lives. We have seen this from the example of Hurricane Ida, which took ten times fewer lives than Katrina.