California is famous for its sunny weather, heat waves, and wildfires. However, on March 17, 2023, a powerful winter storm hit the state, bringing heavy snowfall and high winds. The storm was part of a larger system that affected much of the western United States, including parts of Oregon, Washington, and Nevada. The snowfall was particularly heavy in the Sierra Nevada mountain range, with some areas receiving several feet of snow. Here's the animation of the storm in California from the RainViewer app.
As of March 22, at least two people died as a result of the disaster. According to the California government, a state of emergency is in effect in 34 of the state's 58 counties. In some areas, people were asked to leave their homes and move to higher ground for safety due to fear of flooding. A flash flood warning was issued for much of central California.
Emergency crews across California were doing their best to protect and rescue the residents of affected areas. Over 470,000 sandbags were provided to people in various parts of the state to assist them in coping with flooding. Furthermore, over 4,000 Caltrans workers were deployed across the state to deal with any roadside crises.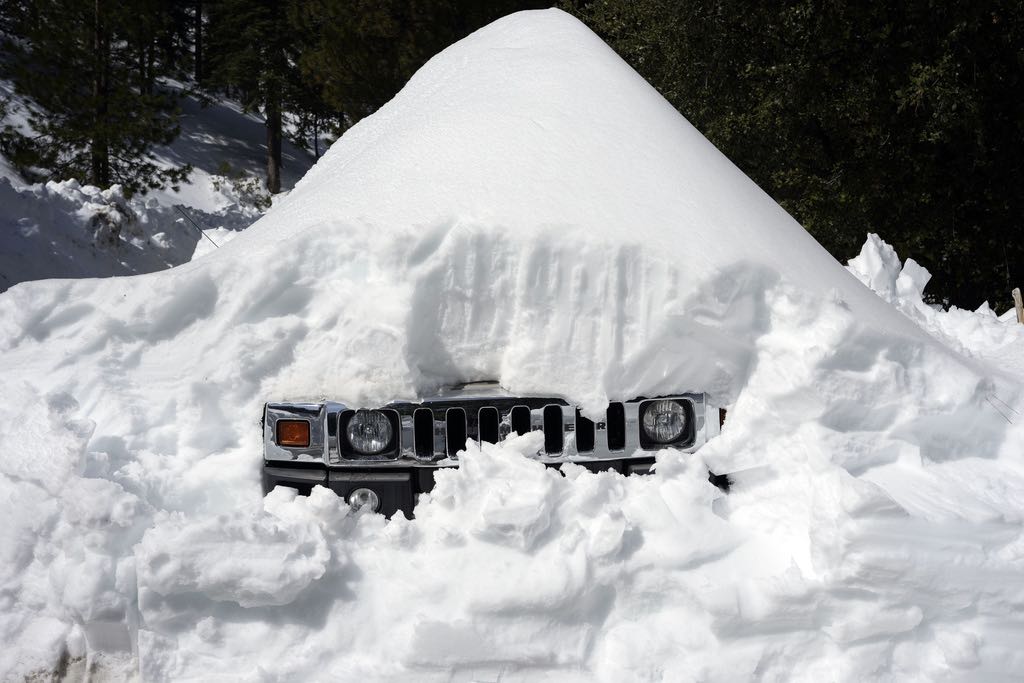 Image source: Associated Press
What Caused the Snow Storm in California in March?
Since January 2023, the state on the west coast of the country, which often suffered from drought and hot winds in the past, has repeatedly experienced unusually heavy rainfall. During that time, an unusual amount of snow had fallen at high altitudes in California. Rising temperatures could lead to more intense melting of snow.
The main reason for the storm and heavy rainfall in California in March 2023 is a weather phenomenon known as the "Pineapple Express". It is a so-called atmospheric river - a relatively narrow, directed band of moisture-saturated air. Such a "river" can be up to 310 miles (500 kilometers) wide and 1,242 miles (2,000 kilometers) long.
Atmospheric Rivers: Details
Atmospheric rivers carry warm, humid air from the tropics to higher latitudes. A single atmospheric river can transport about 7.5 to 15 times the amount of water that the Mississippi River normally carries at its mouth, according to NOAA. Atmospheric flows in California are nicknamed "Pineapple Express" because the humid air masses that hit California often come from the tropical Pacific Ocean around Hawaii.
Image source: NOAA
Atmospheric flows come in many shapes and sizes and are not unique to the Pacific. At any given time and in each hemisphere, there are around five such water vapor streams in the atmosphere.
Atmospheric rivers play a central role in the global water cycle. Despite being so narrow, They are responsible for more than 90% of the global meridional water vapor transport. On the west coast of North America, around 30-50% of the annual precipitation occurs due to the "Pineapple Express".
An atmospheric river can influence the frequency and magnitude of floods as well as the direction of storms. Additionally, it makes extratropical cyclones stronger. According to a study by NASA, atmospheric rivers may become more intense by the end of the century because of climate change.
Record-Breaking Snowfall in California: Impact
The storm brought significant snowfall to many parts of California, with some areas receiving up to 6 feet (1.8 meters) of snow. The Sierra Nevada mountain range was hit particularly hard, with some ski resorts reporting up to 10 feet (3 meters) of snow in just a few days. This led to widespread road closures and traffic delays throughout the region.
The San Bernardino mountains had been suffering from heavy snow in California starting from late February 2023. Since that time, 13 people had died. The residents of the area continue experiencing the California snowstorm impact. One of the greatest concerns is a food shortage, as there are not many grocery stores in the area.
According to the National Weather Service, the winter storm broke records in several locations, including Mammoth Lakes, where 8.5 feet (2.5 meters) of snow fell in just one storm. The storm also broke records in Yosemite National Park, where 30 inches of snow fell in one day. The weather station at Lee Vining, about 6,758 feet (2,060 meters) above sea level southeast of Sacramento, reported the equivalent of 210 inches (about 5 meters) of snow. This broke the previous record for this season.
The heavy snow and high winds caused power outages in California. In some areas, power outages lasted for several days, and utility companies struggled to restore electricity to affected customers. Stanford University in the Bay Area had to cancel exams because of the power outage.
The storm also had a significant impact on wildlife in the Sierra Nevada region. Some animals, such as deer and mountain lions, struggled to find food in the deep snow. As for domestic animals, they could not access grass that was buried under the thick snow blanket. The California National Guard had to deliver emergency hay to starving cattle. Additionally, volunteers were shoveling snow on roadways to build paths for the buffalo population so they could safely migrate.
The disaster caused significant disruptions to transportation throughout the state. Many flights were canceled or delayed, and road closures made travel difficult.
Image source: AccuWeather
Some mountain passes were closed for several days, making it difficult for drivers to access popular ski resorts. The storm also impacted the ski industry in California, with many ski resorts forced to close due to the heavy snowfall and high winds.
However, the owners of some California ski resorts do not lose their optimism. For example, a Mammoth Mountain resort announced on its Facebook page that they were going to extend the ski season at least into summer. Another resort, Heavenly Ski, tweeted that their ski season would last until May 7.
Storm and Flooding in California
Along with the snow, the storm also brought heavy rainfall to many parts of California. The much-anticipated rain after a prolonged drought became more of a disaster than salvation. Heavy rains caused flooding and mudslides in some areas, particularly in Southern California. Authorities had to evacuate some communities due to the risk of landslides. Additionally, roads were flooded so much that the drivers had to abandon their cars.
On Tuesday, March 21, about 2 inches of rain fell in Los Angeles. This broke a 130-year-old record for March 21. On the same day, some elevated areas received up to 5 inches of rain. On Wednesday, March 22, the rainfall total at the mountain weather station at a height of over 3,000 feet (about 900 meters) exceeded 100 inches, as the National Weather Service reported.
Image source: NWS Bay Area Twitter
According to meteorologists, such intense rainfall as well as wind gusts of 39-73 mph (62-117 km/h) resembled a landfall of a tropical storm.
How to Stay Safe During a Snowstorm
California snowfall once again demonstrated that severe weather can take you by surprise. Therefore, it's important to be prepared for extreme weather events. Here are some helpful tips:
Activate government alarms on your smartphone. Additionally, you can turn on Severe Weather Alerts in the RainViewer app
Prepare your car for winter. Keep a small bag of sand, matches in a waterproof container, a piece of cloth (preferably red) to tie to the antenna in case of emergency, a first aid kit, a flashlight, a cell phone charger, blankets, and warm clothes in the car.
A major problem with blizzards and snowstorms is the risk of a power outage. A power outage can also deactivate a heating system and break the water supply. If possible, get a generator. However, pay attention to safety - the generators are not intended for indoor use, because of the risk of poisoning with carbon monoxide.
Make sure that you have enough heating material at home before winter. If you run out of heating oil during a blizzard, the supplier won't deliver it the very next day.
The National Weather Service issues snow warnings of different levels. Here's how to distinguish between them:
| | |
| --- | --- |
| Winter Weather ADVISORY | Winter weather conditions with probably bad road conditions and some inconvenience. |
| Winter Storm OUTLOOK | Winter storm is possible in the next 2 to 5 days. Stay up to date with local radio/TV stations! |
| Winter Storm WATCH | Winter storm is possible in the next 36 to 48 hours. |
| Winter Storm WARNING | Life-threatening winter conditions have begun or are coming in the next 24 hours. |
| Blizzard WARNING | Strong winds of over 35 mph (56 km/h) as well as snow and poor visibility are expected. |